New Golf Pride Z-Grip™ Patriot™ Delivers Performance with a Purpose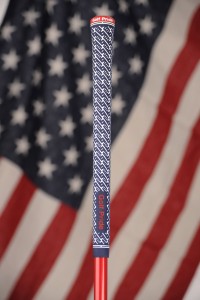 SOUTHERN PINES, N.C. …Diversified industrial manufacturer Eaton announced today that its Golf Pride grips division would continue its support of the Folds of Honor Foundation. As the two organizations begin their fifth year of working together, Golf Pride has refreshed the Patriot grip offering for 2013, with the new Z-Grip Patriot. Like the previous Patriot, for every grip sold, Golf Pride will donate a portion of the sale to the Folds of Honor Foundation, a legacy foundation designed to provide educational scholarships for dependents and spouses of service members who were either killed or disabled in service to the United States.
The Z-Grip Patriot features the same red, white and blue patriotic color scheme as its predecessor, but in a new design that provides enhanced traction and superior moisture management performance for all-weather control. The Z-Grip Patriot features the same pattern popularized by last year's Z-Grip Cord, but comes in an all-rubber material construction for a softer feel. The Z-Grip Patriot features a street price of $8.49 per grip and will be available in March 2013.
"The original Z-Grip Cord was well received in 2012, but many consumers asked for it in an all-rubber model, too" stated Brandon Sowell, global sales and marketing manager for Eaton's Golf Grip Division. "We recognized the opportunity to freshen the Patriot grip and give our customers what they wanted. We have contributed more than $50,000 to the Folds of Honor Foundation through the first 4 years of the program and we expect with this new, innovative technology to continue to fuel those contributions."
Eaton's Golf Grip Division is the world's largest manufacturer of golf grips, with manufacturing, sales and distribution facilities on five continents. The division's Golf Pride brand is recognized globally as the number one choice in grips among tour and recreational players, competitive amateur golfers, club manufacturers and club repairmen. For more information, visit us on Facebook at http://www.facebook.com/GolfPride.
Eaton is a diversified power management company providing energy-efficient solutions that help our customers effectively manage electrical, hydraulic and mechanical power. The company is a global technology leader in electrical products, systems and services for power quality, distribution and control, power transmission, lighting and wiring products; hydraulics components, systems and services for industrial and mobile equipment; aerospace fuel, hydraulics and pneumatic systems for commercial and military use; and truck and automotive drivetrain and powertrain systems for performance, fuel economy and safety. Eaton acquired Cooper Industries plc in 2012. Eaton has approximately 100,000 employees and sells products to customers in more than 150 countries. For more information, visit www.eaton.com.
PRODUCT IMAGES AND SAMPLES AVAILABLE TO MEDIA UPON REQUEST
To obtain product or photo samples, contact: Jared Kelowitz at jaredk@jdpr.com
###