Inside The Ropes: Golf Pride Engineer Greg Cavill
Last Updated:

June 11, 2021
9 min. read
For more than two decades, Greg Cavill was known as one of the finest minds in the world of steel golf shafts, as he helped Memphis, Tenn.-based True Temper design & develop their industry-leading products.
Now, he's helping Golf Pride create breakthrough grip technologies — and it's far more complex than he ever could've imagined.
Read on to get to know Greg and learn more about how our grips are made.
Tell us a little about your background at True Temper.
Growing up in the UK, I had a real passion for mechanical engineering, and I always knew I wanted to go down one of two paths – either work in Formula 1 as an engineer or designer, or work in golf.
At the time, there were a number of golf equipment assemblers located in the UK, but only one golf manufacturer. I kept hounding them, and hounding them, after getting my degree, and the perseverance paid off. I started as a development engineer for Apollo Sports Technologies, which, at the time, was the second-largest steel shaft manufacturer in the world.
An opportunity arose at True Temper in 2003, where I was fortunate enough to work on different prototypes and new products and to work with wonderful colleagues & Tour players!
What brought you to Golf Pride, and how has your experience been shifting from steel golf shafts to grips?
For me, Golf Pride was a really easy switch. We have a very similar customer base as True Temper and the shaft companies: Either retail products for consumers or working with partners from the main club manufacturers, with whom I have many years of experience.
However, I underestimated the complexity of golf grips – the development of them is far more challenging than anything else I had worked on.
What makes developing golf grips more complex or difficult than steel shafts, in your experience?
At Golf Pride, we are manufacturing, developing, and designing our own rubber compounds. We're also developing our own tooling (parts and molds used in the production of rubber grips). Believe it or not, that is very challenging!
Plus, on golf grips, you have to worry about durability on top of performance. You have environmental factors to deal with like UV rays & dirt and oil from the hands which wear down rubber, and that is not the case with steel. 
What do you do for Golf Pride?
Since I've been here, we've been working hard to better identify consumer needs and building out a long-range technology and product roadmap.
On a daily basis, I'm working with our production teams at our overseas plants and our R&D team here in North Carolina to ensure prototypes are moving along; doing testing on new rubber compounds; as well as working on new grip features, textures, and profiles. 
We're very fortunate that such a large portion of the market trusts our products, and we take it seriously to provide a high-quality product for every customer with every grip we produce.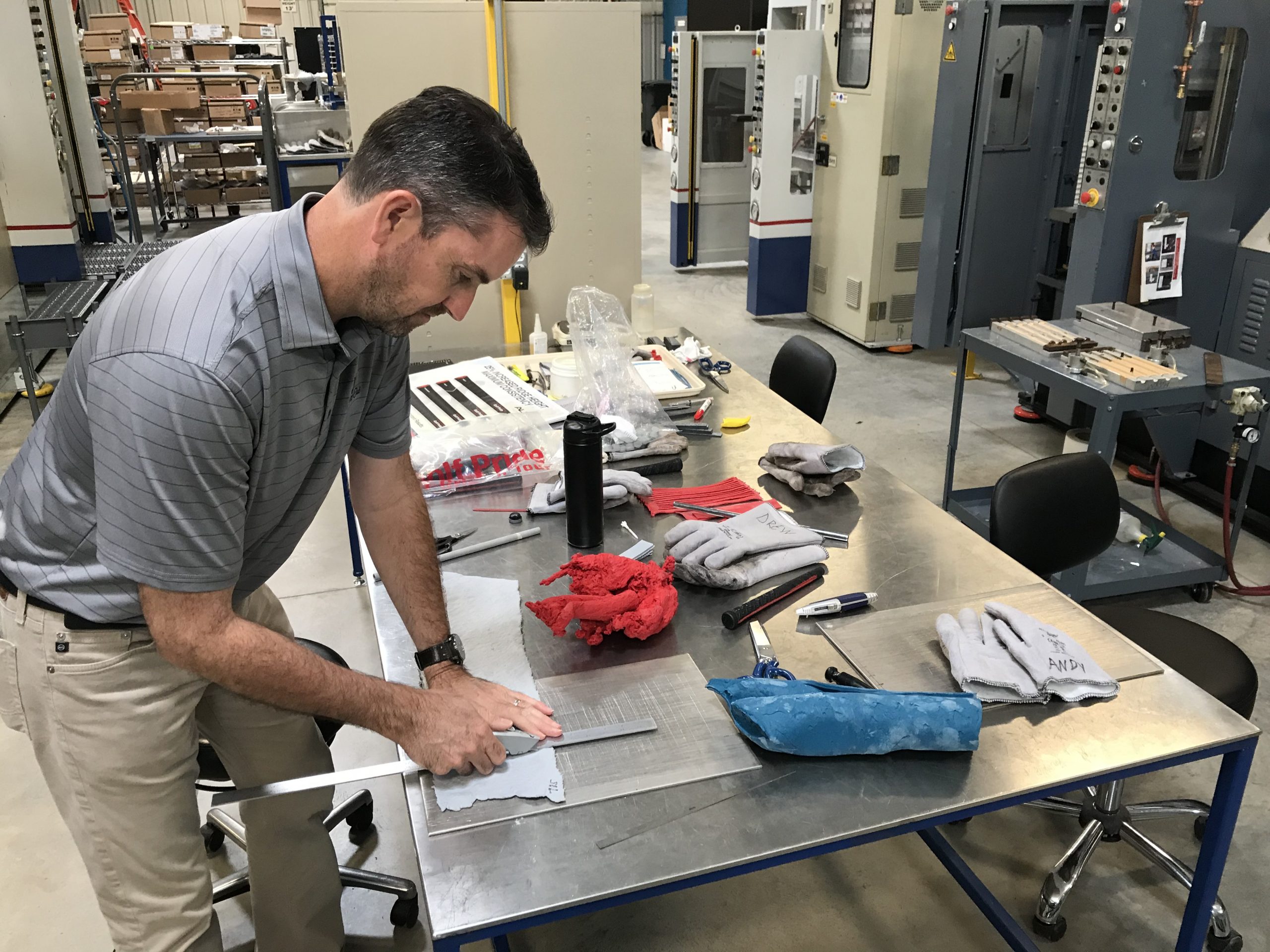 Where does inspiration for new grips and grip technologies come from?
Our history is very important to us, but our focus always is on the future and where we can take grips. It's no longer a handle; it's an integral part of the golf club and the fitting equation.
Our goal – and we believe we're there – is to positively influence a person's swing every time they pick up a club.
Typically, we've operated on a 'push system,' where we're developing new ideas and selling them to market. Now, new grips get pulled into the market because people have a need for them. MCC Teams is a great example of that, where golfers wanted to show their passion for certain teams or color-coordinate their grips to other equipment & apparel.
How do Tour players influence grip development?
We work very closely with Tour players, and we learn so much every time we're out there because every Tour player is so particular about their feel and performance requirements.
A few years back, we worked with a big name on Tour who doesn't replace his grips often and actually prefers getting his grips worn to the point where they actually get tackier. Once we heard that, we spoke to our R&D team, explained what he needed, and were able to have prototypes turned around in 24 hours. The player put that grip – now available to consumers as the Tour Velvet ALIGN Tack – in play on the PGA Tour.
Again, we didn't know that product was needed until we spoke to the player and heard what he was looking for. Direction comes from multiple sources.
How has the new Global Innovation Center (GIC), located on Pinehurst No. 8, influenced how Golf Pride develops new grips?
Oh, it's helped us a huge amount in being able to move quickly and push limits. We're able to get prototypes out fast, test them on-site, and learn from that – we always say we want to build it fast and fail fast.
Our office is so full of passionate people & passionate golfers, and everyone has a voice and is encouraged to chime in. Having the backing of a huge global company like Eaton means we are able to leverage some phenomenally advanced technologies.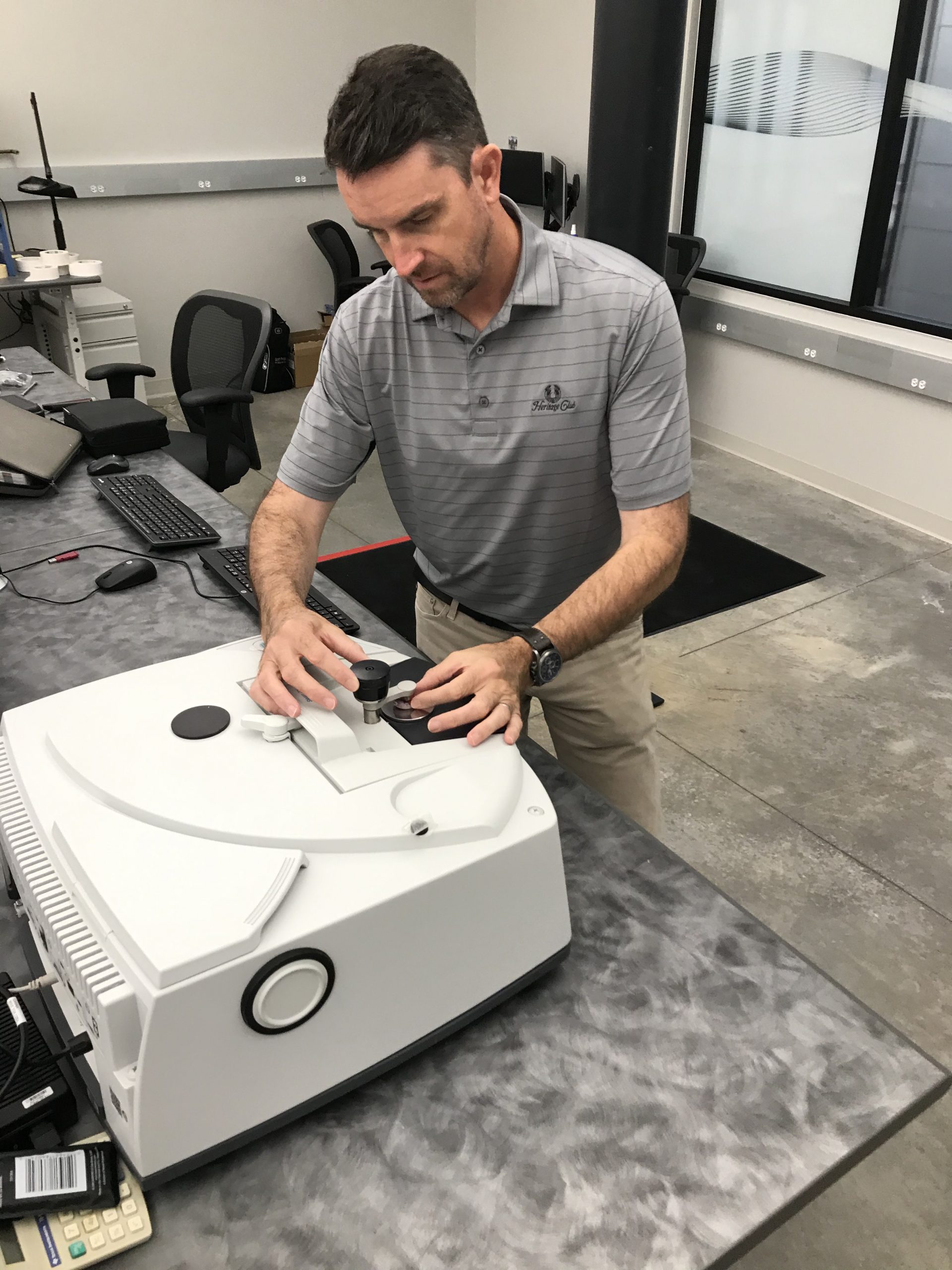 What does the typical process look like for taking a grip from concept to market?
We have three classifications in terms of development required: Iterative, Derivative, and Breakthrough.
Iterative is where we're taking an existing grip and making minor changes, most often for OEM partners. That could be something as simple as changing colors, and that process typically takes 3 months or less.
Derivative can be more intense because we're usually talking about new materials & rubber compounds, and new tooling, which requires much more extensive testing and validation. The Tour Velvet Plus4 is a great example of a Derivative grip, where we took the existing Tour Velvet and added Plus4 Technology.
Breakthrough is something we classify as a new product or technology that significantly changes or advances grips and the category as a whole. We're putting brand new features on a grip, like ALIGN Technology recently or the CP2 with Control Core when it first launched.
What do you see most amateur golfers get wrong with their grips and what could more amateurs benefit from a grip perspective?
As golfers start to become more familiar with fitting, there's been an improvement in players playing the right grip. Still, what we come across often is that the grip is still a forgotten item, even though it's the only part of the club in contact with hands. People wash clubs and keep grooves clean, but people aren't washing grips.
So I'd say that's the first thing: educating people on cleaning grips. It doesn't take long, but it's amazing how it picks up performance.
Elsewhere, I don't feel consumers really understand the importance of grip sizing. Going to a store or your club's pro shop and getting help from a knowledgeable source is extremely valuable.
For years, I was playing a standard size ribbed grip and adding three layers of tape, trying to copy what pros were doing. When I came to Golf Pride, I realized I'd been playing the wrong size grip all along and switched to Midsize. For one, it's much easier to install, and the impact it had on how the grip fit in my hand and on grip pressure was stark. When I go back and try smaller grips, it's so noticeable.
What's next for Golf Pride and the grip category?
I think what you'll start to see more of is that we're going to be more centered on individual golfers' needs and be able to provide even more options for golfers to choose from. We're spending tons of time and resources on identifying those needs, and being in Pinehurst allows us to be face-to-face with golfers all the time so we always have a finger on the pulse.
What do you like about living and working in Pinehurst?
As an avid golfer, I've been very fortunate to end up here – basically the golfing Mecca in the U.S. Having a young family, Pinehurst is very laid back, quiet, and safe but still close enough to a big city in Raleigh.
There are so many wonderful courses here, but I'd have to say my favorites are Mid Pines & Pine Needles. [Pinehurst] Resort is obviously fantastic – I love No. 4 as well as No. 8, where our new HQ is located. We have great weather here all year round.