JR Smith College Golf Debut Shines Light on HBCU Golf Programs
Last Updated:

October 15, 2021
12 min. read
BURLINGTON, N.C. – When the moment arrived early on Monday, Oct. 11, North Carolina A&T State University golf coach Richard Watkins felt as if his golf program's presence was finally noticeable. The appropriately titled Phoenix Invitational in Burlington, N.C., set the stage.
"People didn't even know we played golf at A&T until right now," Watkins said.
It was the occasion of a usually low key, rarely fan-attended fall golf tournament, hosted by Elon University – they're nicknamed the Phoenix, 20 years after changing from the Fighting Christians – at quaint Alamance Country Club, a 1947 Donald Ross-designed course.
What raised the A&T Aggies' golf barometer was one of sports' most unusual stories of recent years. JR Smith, a 36-year-old millionaire basketball athlete, freshly retired from 16 years and two NBA titles with the Cleveland Cavaliers and Los Angeles Lakers, was sticking the tee in the ground for the first time as a mid-major college golfer and a freshman walk on. Only a few passing-by mid-major college golfers, coaches and curious onlookers, a handful of media, including LeBron James' The Spring Hill Company, and surely famous friends such as LeBron and cohorts from social media's distance, were paying attention. Smith shot 83-78-79 to place 81st of 84 participants.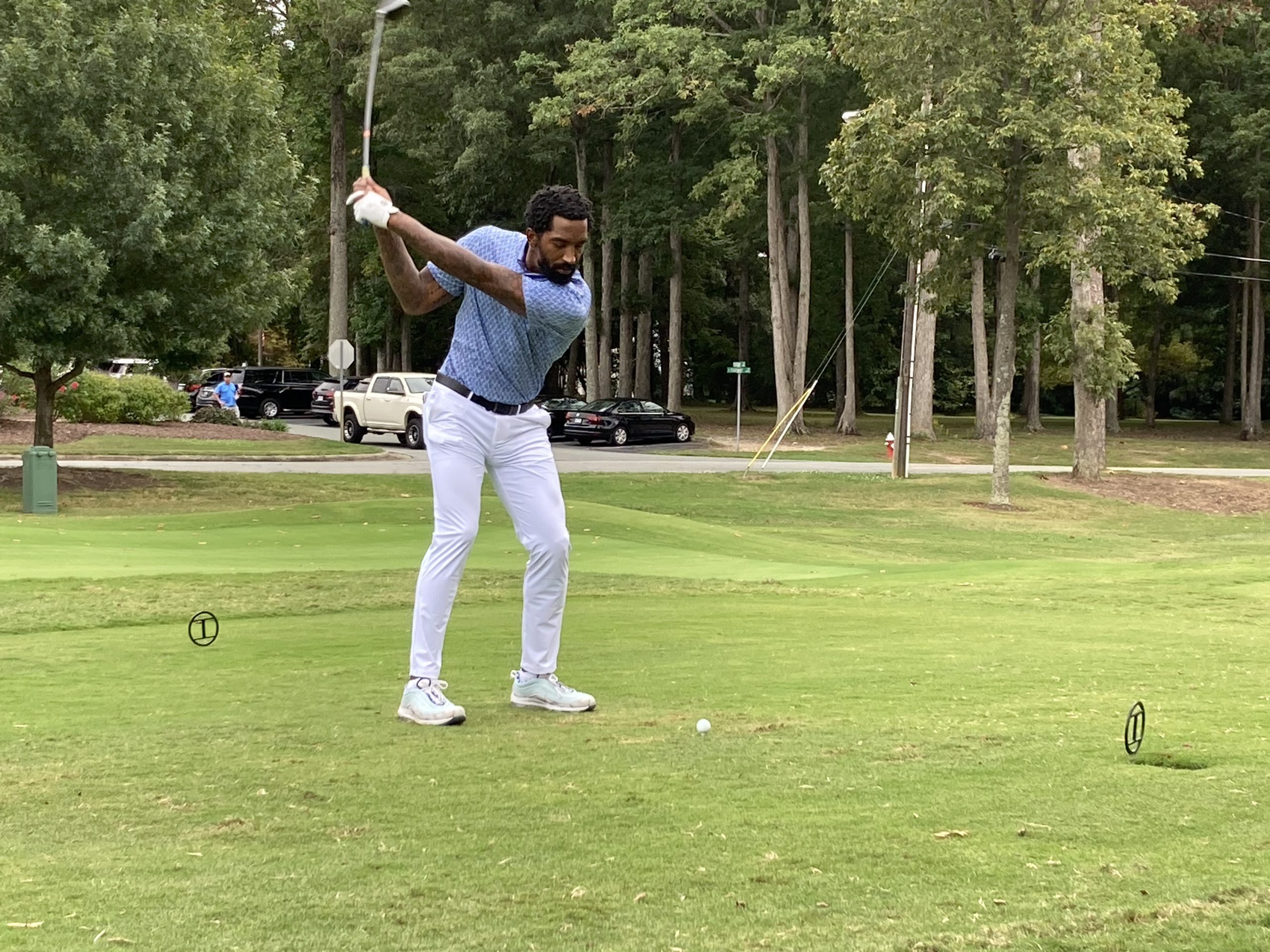 "It's a bucket list for me, to live my dream twice," Smith said. "First, to play professional basketball and now play another sport in college. I'm excited about it, but I'm not content."
The Start of Smith's College Golf Career
The 6-foot-6 Smith started his first day on unusual note – a 5:45 a.m., wakeup call – for an 8:45 a.m., shotgun start on the par-4 fifth hole as the Aggies' No. 5 player, appropriate since 5 was his most frequent NBA jersey number. Normally, he would have carried or pushed his A&T-branded carry golf bag, but because of a 36-hole opening day the field was allowed to ride. Smith penciled in a playing partner's score and was paired in a foursome with Elon University sophomore Pedro Rabadan of Spain, Gardner-Webb senior Miles Albright of Ocala, Fla., and Temple freshman Joey Morganti of Philadelphia (Smith's cart mate and a huge 76ers fan). Rabadan shot rounds of 65-66 when paired with Smith, went on to earn co-medalist honors and his host Phoenix won the team competition over 54 holes. They found out their draw on Sunday night.
"I am not from this country, so I didn't know a lot about him," Rabadan said. "But my father (Jorge) is a big basketball fan and told me all about him (Sunday) night when I talked with him."
Smith's first round was like many rookie college golf rounds. Smith had three double bogeys and 34 putts. As the continuous 36 holes turned toward the second round, Smith was more at ease, getting to 1-under early before a double bogey on the back nine resulted in another 42 and then a concluding 36 on the front nine for a 78. Tuesday morning's final round had more drama, as the competitors walked and Smith had a run-in with an in-ground hornets' nest on his third hole and had to take a medical break before resuming his round.
"Being on the first tee in golf is like when they call the starting lineup in basketball and now in golf they call the lineup and it's just you, by yourself," Smith said. "It's all on you out here. It's a lonely feeling, but it can also be an empowering feeling if you gain some confidence."
It's challenging to find a story similar to Smith's transition from the top of his sport in professional basketball and the NBA to a minor college sport as an amateur. Just about all are pro in one, then a second. Most notably, there have been several professional baseball players whose arms failed them or the curve ball confounded them in the minor leagues and they turned to college football, such as 28-year-old quarterback Chris Weinke who went on to win the 1999 Heisman Trophy at Florida State.
Smith's journey began earlier this summer when Watkins heard from C.J. Paul, the older brother of NBA guard Chris Paul, that Smith was interested in attending the centrally located North Carolina school and walking on the golf team. Smith was accepted into the university to study Liberal Studies, one of the top programs at any Historically Black College or University, and began classes in mid-August. With 12,000 students, A&T is the country's largest HBCU.
"During the day, he's real simple," Watkins said. "JR's either in class, on his computer at the library or at the golf course. Going to school is his first item on the agenda. I know where to find him."
Turning a pro into an amateur
The most complicated process was getting a professional athlete from one sport eligible to compete as an amateur in another, an unusual dynamic with the NCAA which required tracking down high school transcripts from multiple New Jersey high schools that Smith attended, including one that doesn't exist anymore, and evaluating his classes. That search went way back to before 2004 when Smith attended Saint Benedict's Prep in Newark, N.J., a school where he wowed NBA scouts and skipped his college scholarship offer to the University of North Carolina, a school but 40 miles away from Burlington that would win the NCAA title in 2005 led by Sean May, Raymond Felton and would-be fellow freshman Marvin Williams.
Smith played in New Orleans, Denver, the New York Knicks, Cleveland and the Los Angeles Lakers, known for his sweet shot and winning ways. During that run and on off days, Smith got the golf bug, first thanks to NBA Hall of Famer Moses Malone, who challenged him to take up the game, from another NBA sharpshooter, Ray Allen, who used the sport to relax on off days and when he retired, and Chris Paul, who hails from nearby Winston-Salem and professes a golf jones like his on-court basketball intensity.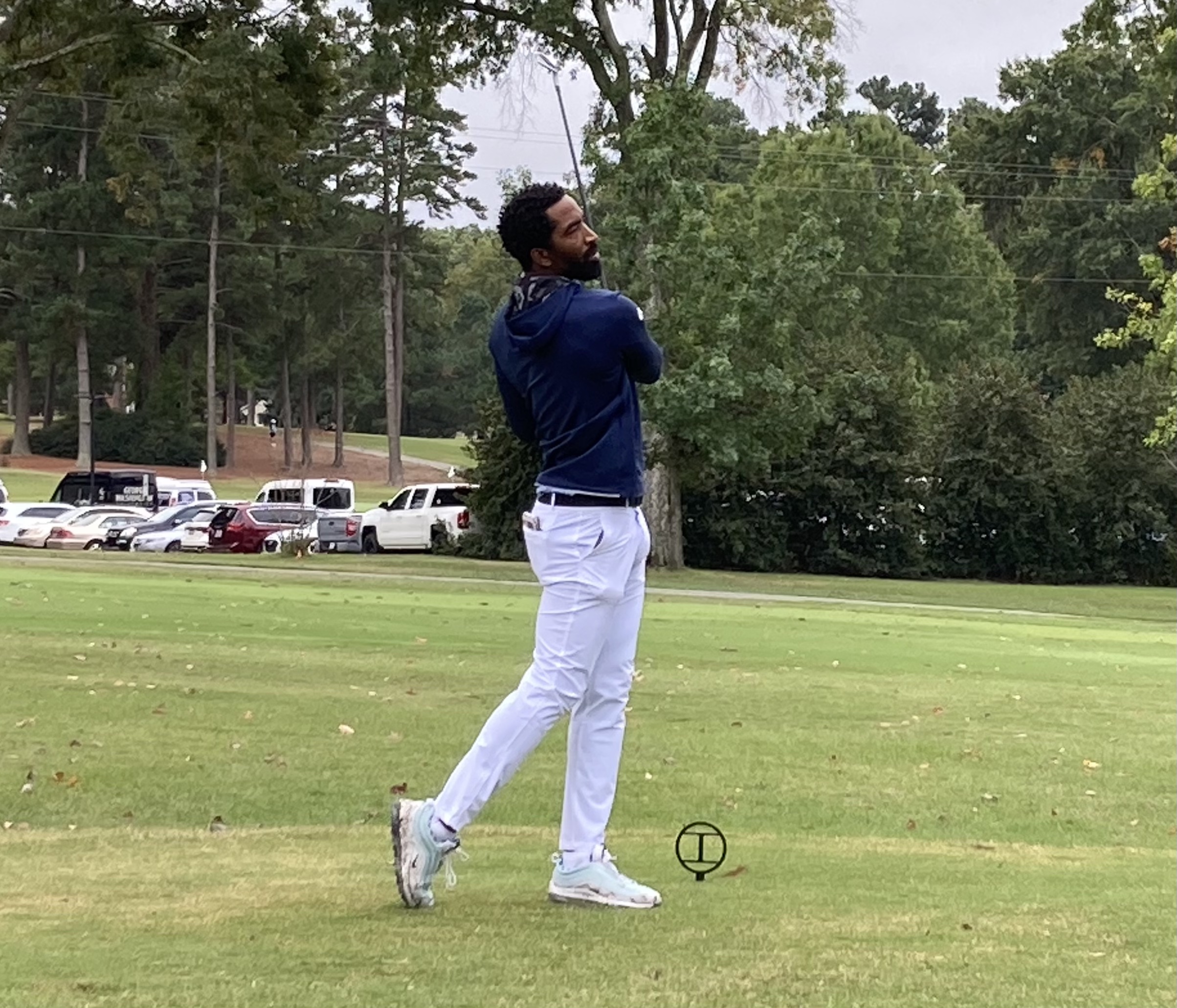 Watkins recalls that Smith was more used to casual or celebrity golf where balls in water hazards were just dropped without an afterthought for the proper placement and mulligans off the first tee were standard.
For the Aggies' first fall tournament in late September, Smith was the only member of the school's six-person team to not travel to Atlanta for the HBCU Division I Invitational. For the second event in Burlington, N.C., the AT&T fall schedule is so busy in October that all six team members were scheduled to play. Nine-hole qualifiers and three tournaments will begin to serve as indicators of positioning when the schedule resumes next March for the more important spring season.
Coach Watkins & The Greensboro Six
Watkins has been the sole leader of the N.C. A&T golf program, which began with a women's team five years ago and the men four years ago.
The golfers' effort was initiated by laying down 75 cents on the counter and getting arrested for trespassing when they started playing the course, setting the scene for the impactful Greensboro lunch counter protest five years later and more protests across the South.
The Greensboro native has his own story of rising to play golf. The 1976 graduate of High Point (N.C.) College (now University) was the first Black man to play on the High Point golf team. He also worked for more than 20 years as a part of the pro shop staff at Greensboro's Gillespie Park Golf Course, a nine-hole, inner-city course that is a Civil Rights landmark where the "Greensboro Six," a group of six Black Greensboro golfers, integrated the course in 1955 and set off escalating legal battles. The golfers' effort was initiated by laying down 75 cents on the counter and getting arrested for trespassing when they started playing the course, setting the scene for the impactful Greensboro lunch counter protest five years later and more protests across the South. In golf, Charlie Sifford made his PGA Tour debut in the 1961 Greater Greensboro Open at Sedgefield Country Club – now one of the home courses for the A&T program – and placed fourth.
"There are a lot of Gillespies across the country," Watkins said. "It was a city-owned course, but one where everybody's tax dollars maintained it but everybody who was paying taxes on it couldn't play it."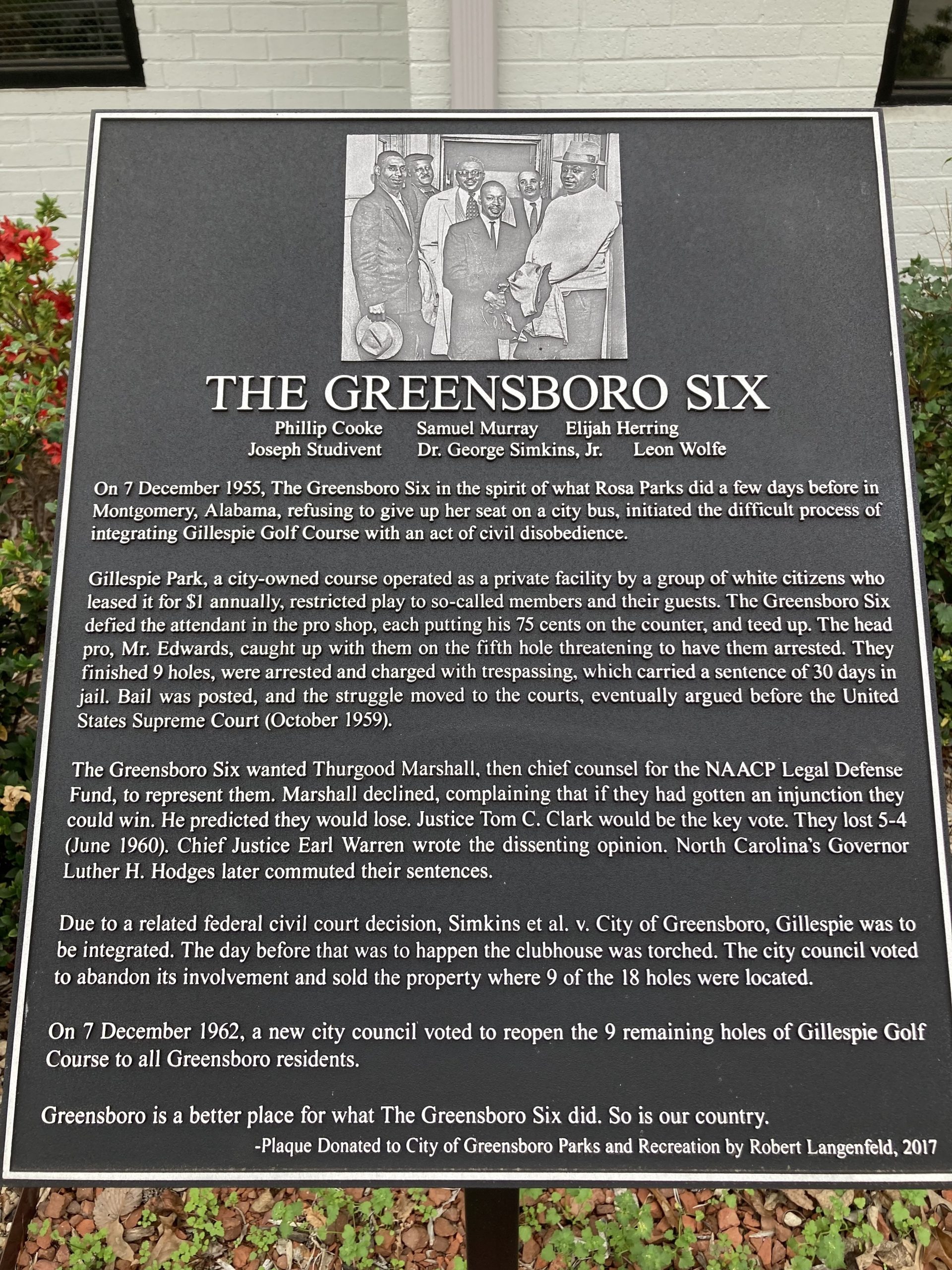 Smith's presence in A&T blue and gold has brought unprecedented attention to Watkins and his team. They played in the pro-am at the nearby Wyndham Championship on the PGA Tour in August and attended the Tour Championship in late September at Atlanta's East Lake Golf Club, with star Jon Rahm stopping by for photos and chit-chat. The top two players on the Aggies' squad, seniors Xavier Williams from Boiling Springs, N.C., and Diego Gonzalez of Venezuela, have benefitted from the additional focus and have opted to return for super senior seasons in 2022-23. Williams and Christyn Carr from the Aggies women's team played in the Golf Channel-televised inaugural Stephens Cup in Arkansas the week after the Burlington event. Golf instructor Claude Harmon III, a pal of Smith's, has even promised to visit the team in Greensboro this fall.
The Future of Golf & HBCUs
HBCUs have also gained some momentum in the golf world in the past couple years. NBA star Steph Curry pledged to financially support the revitalization – after a 40-year absence – of the Howard University men's and women's programs in Washington DC. The Bison started playing this fall. At Augusta National last April, it was announced that scholarships in honor of Lee Elder would be given to nearby Paine College for the men's program and the formation of the women's program. In September, the PGA Tour and United Airlines said they would collaborate to present a $10,000 grant to each of the 51 current men's and women's HBCU golf programs so that they can expand their playing schedule.
"Golf is still golf," Watkins said. "The door is open, but you still have to have the skillset to move into the room. You still have to have the talent to take advantage of the opportunity. Yes, we're seeing more activity, more effort, to give these kids a chance. There's involvement at a lot of different levels and jobs, not just playing golf, but working in golf. It's great to see those kinds of things occur."