How A Life-Changing Injury Inspired One Man To Rethink The Game Of Golf
Last Updated:

September 2, 2022
8 min. read
Dan Aldrich is a successful financial advisor in California but may be more passionate about his skills as a life planner – for himself and others. It was a "tuning-fork moment" in golf that cemented his focus on the sport and helping others who are challenged to carry on.
Aldrich was a competitive high-speed international water skier as a teenager during the late 1980s in Los Angeles until he fell awkwardly going near 100 mph and suffered complete nerve detachment to his left arm that was deemed unrepairable. With the brachial plexus (network of nerves in the shoulder that carries movement and sensory signals from the spinal cord to the arms and hands) injury, seemingly gone was the 18-year-old's ability to participate in sports, including skiing and golf.
"I knew laying in the water after the fall when the paramedic boat was coming that this would be what I was faced with," Aldrich said. "But I just thought, 'Off you go.' I went on a high school trip two weeks after the accident and just kept thinking, 'Here you go with life.' "
When you think about the game of golf, whether you have two arms, one leg or are blind, we kind of adapt a little bit when we play
Soon after that senior trip, Aldrich returned home and went to the golf course with his father. He watched and then took a 4-wood from his father's bag, and with his right arm only, flushed the ball over a water hazard, outperforming his father.
"That shot was my tuning-fork moment that hits all the right notes where I had success quickly with one swing and the correct vibration that hooked me again," Aldrich said. "I was ready to play. Golf was the first sport that I started playing again."
The start of the NAOAGA
Aldrich, now age 53, has used that inspiration for his own participation and to lift numerous others. He is the President of the National One-Armed Golfers Association (www.naoaga.org), which organizes and promotes tournaments across the United States involving one-armed golfers. The NAOAGA takes the lead from the internationally oriented Society of One-Armed Golfers, which was founded in 1932 in Scotland.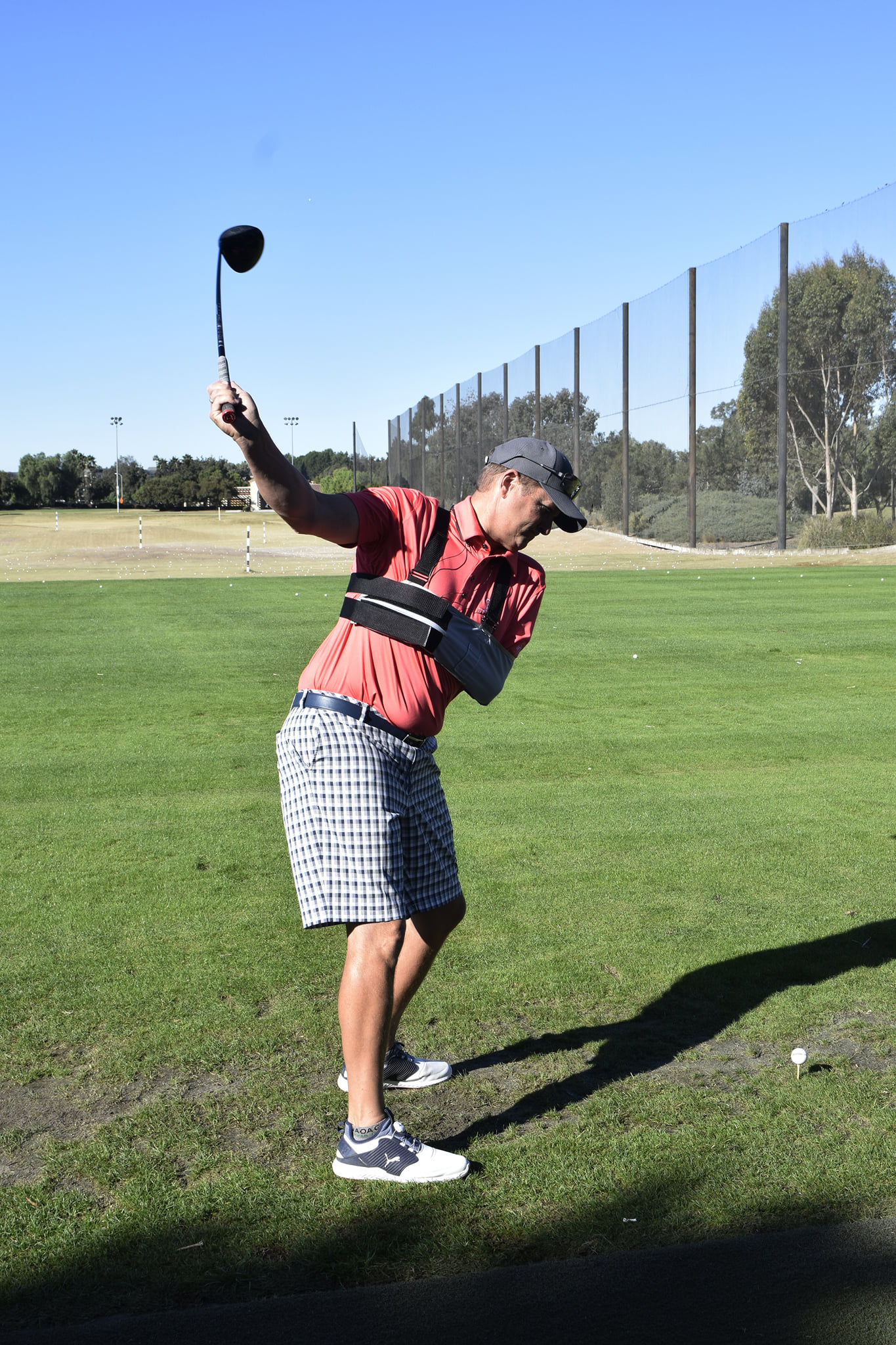 'When you think about the game of golf, whether you have two arms, one leg or are blind, we kind of adapt a little bit when we play," Aldrich said. "If you listen to different pros talking, the golf swing is not exactly the same for everybody. As you get older, your body changes and you adjust. The fundamentals still apply. Remember the ball doesn't know that the player holding the club has just one arm attached to it. With one arm, we find the way that is most efficient."
There are two divisions in the U.S. competitions – unassisted (one arm only) and assisted (use of a second limb via a prosthesis or injured arm). Participants aren't labeled as playing with their right or left arms. Instead, tennis terminology is in place – a right-handed golfer playing with the left arm is playing backhanded and with the right arm forehanded and vice versa for the usual left-handed golfer.
Regional and national tournaments draw approximately 30 to 80 entries, according to Aldrich. All have found golf to be a saving grace, no matter their proficiency.
Before you think that the participants' golf games are severely diluted, take note of the skills displayed by many, with scratch handicaps and long drivers galore. Vince Biser of Baltimore, now a Florida resident, suffered from cerebral palsy as a youngster and has no use of his right side. He has won the National One-Armed unassisted title a record six times. Canadian Jesse Florkowski, born without a right arm, has been ranked as the top one-armed unassisted golfer in the world, is one of the longest drivers among his competitors, has won the North American championship five times and serves as a golf professional at Connaught Golf Club in hometown Medicine Hat, Alberta, Canada. South Africa's Reinard "Rhino" Schuhknecht misjudged diving off a roof into a pool at age 14 and fell into a live powerline, losing his right arm. Still, he has won long-drive contests with a career-best poke of 366 yards and multiple international one-armed championships. Alex Fourie was born without a right arm in the Ukraine and was adopted by Americans, fell in love with golf and is now a low handicap teaching professional and the top-ranked golfer in his classification. Ireland's Cian Arthurs lost his right arm at age 2 in a lawnmower accident but has risen to winning all the 2019 major one-armed titles and is the President of the Society of One-Armed Golfers.
NAOAGA YOUTH MOVEMENT
Then there's the youth movement, which draws considerable support throughout the organization. Tommy Morrissey is missing most of his right arm, but the St. Louis resident, age 10, has been amazing fans with his powerful back-handed full-turn and follow-through swing. Sophia Howard, born without a right hand, is a 14-year-old from Michigan whose left-handed swing impressed the women's best, the Korda sisters, who have played with and talked with her about their golf games at a LPGA event. Philadelphia's Kendell Kemm, 17, has been fighting a brain malformation that causes strokes and lost the use of her left arm following a surgical procedure, only to keep playing, earn kudos from Phil Mickelson and on-line instruction from Nick Faldo.
"The coolest thing I have seen among everyone, but particularly the kids, is the connection with each other," Aldrich said. "They talk about playing together. I remember one of the junior girls going to one of our tournaments and walking into a room where there were one-armed people everywhere. She just smiled and told her mom, 'These are my people.'"
THE ALDRICH SUPER SLING
Aldrich has continually thought of how he can assist those trying to compete. He developed a sling to secure his left arm in his golf swing. The Aldrich Super Sling (ASS, he jokes) has been worn by many one-armed golfers, including those in national competitions, and para-athletes. Triathlete Robin Caruso, a five-time national champion who lost the use of her right arm when struck by a car while riding a bicycle, wears the sling. Scotland's Derek Rae ran for Great Britain in the Tokyo Paralympics this summer. He was on the Great Britain team in 2016 at Rio and placed ninth in Tokyo at the marathon on Sept. 5, with Aldrich's support from afar. Golf is not currently in the Paralympics, but there are efforts being made to do so, mostly through the U.S. Adaptative Golf Alliance, which ranks golfers according to various stipulations and represents 20 million people who are physically disabled and would like to play the game. Among those supporting golf in the Paralympics are PGA Tour stars Jordan Spieth and Bryson DeChambeau.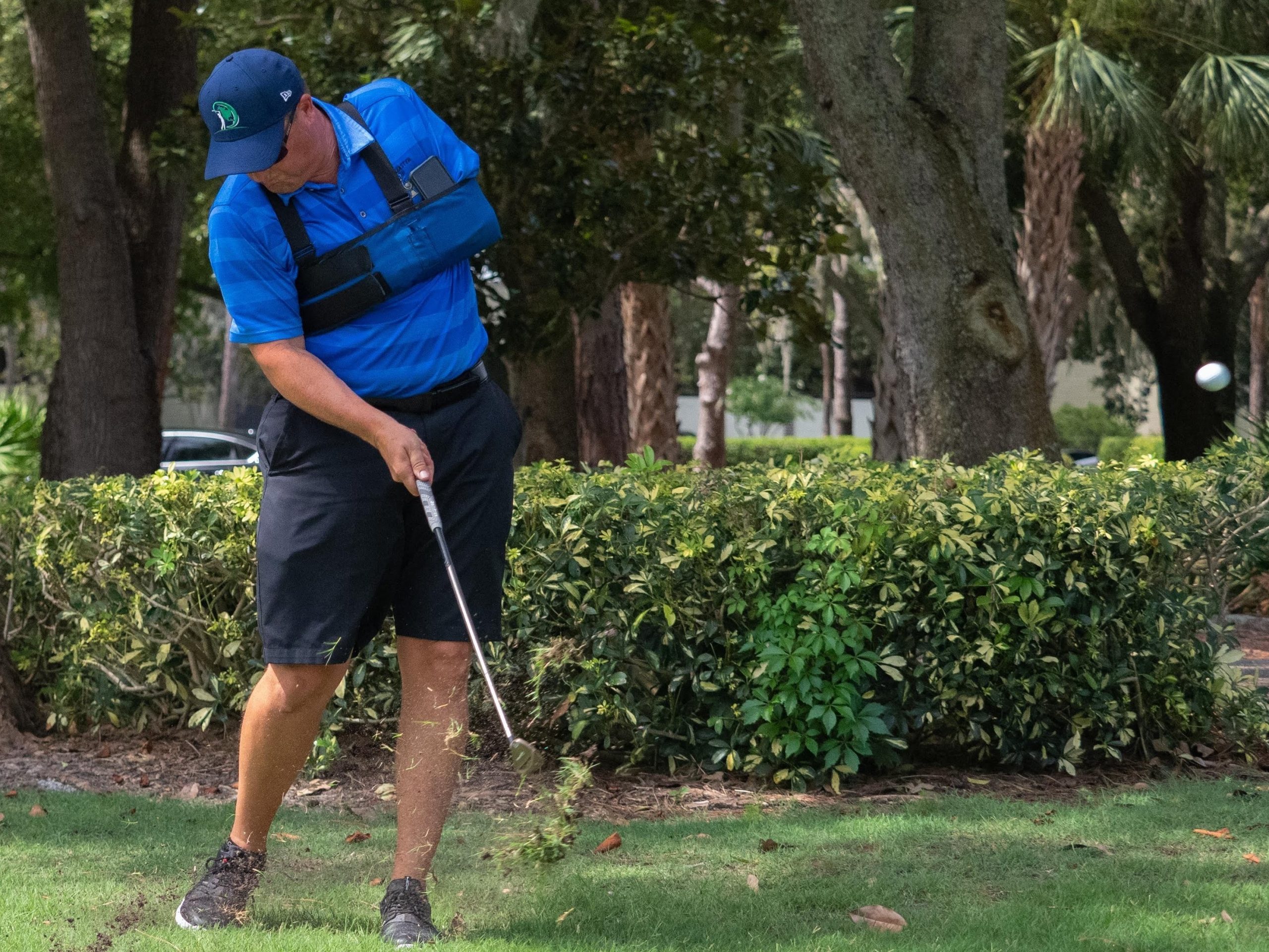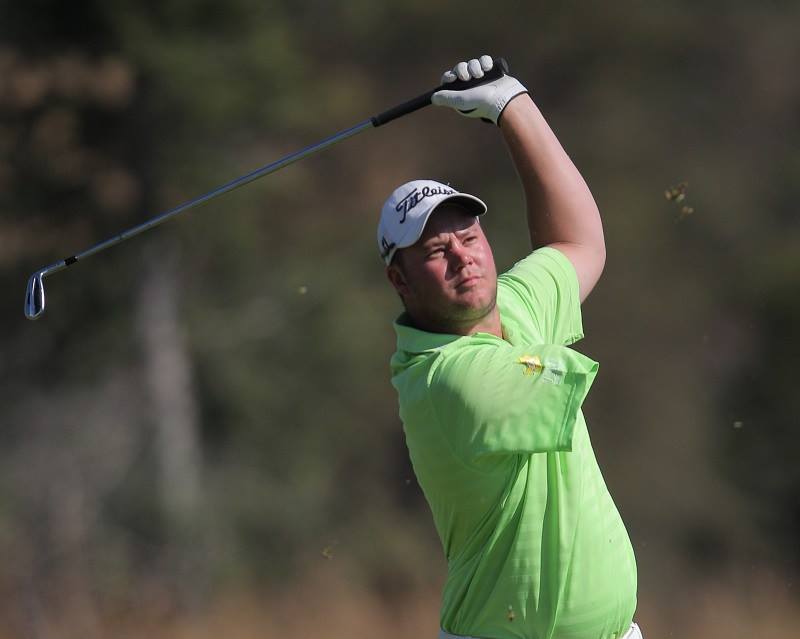 Aldrich said a key to taking the next step is more corporate sponsorship. However, he pays homage to Callaway for its Adaptive Team support and to Ping for its adaptive fitting program. He also points toward Golf Pride for its work with disabled golfers, particularly the availability of the ALIGN Technology grips. The dedicated raised ridge extending down the back of the grip was introduced in January 2017 to guide consistent hand placement for golfers and is particularly valuable to those in adaptive golf.
"The more people who see others playing and the ability to get just one person off the couch is why I do this," Aldrich said. "Give the people who don't get a chance or don't see a future or the kids who are picked on at school the same opportunity."